Hi there. Ashley Elkins here; President at Vitality South. MANY people that know me have affectionately asked me to "spill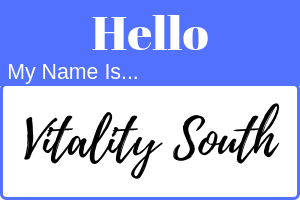 the tea" on Vitality South. And while I'm a more private person by nature, I do want to be as transparent as possible from the onset. So I figured I might as well make this public so everyone knows. I started a new company on September 4, 2019. This new company is a marketing agency, IT services provider, and offers custom business solutions. Those of you that know me, you know that I dream BIG. I'm very passionate about marketing and helping small and medium-sized businesses, often with limited budgets, get the most for their company. I had a dream that we could offer more services than ever before. I dreamt that we could do whatever it takes to help businesses in Tupelo, MS – and beyond – to grow and prosper. I had a dream that we could offer the best customer service imaginable, with nothing or no one holding us back. So, here we are: Vitality South!
Another question I've been asked multiple times is what does Vitality South mean? What it means to me is the ability to breathe new life and energy into a brand, and to help it bear new or better fruits. You can call the fruits: results, profits, (booty – if you're a pirate), or whatever you want to call them. But businesses know what they want. And we're here to help them get it.
"Vitality shows in not only the ability to persist but in the ability to start over."  – F. Scott Fitzgerald
I'll give you another few questions I've heard in a Q & A format for easy reading:
Q: "Are you working out of your house?"
A: No, we actually have a small office upstairs in the Renasant Center for IDEAs. Stop by and visit. We are no longer working on bean bags but have real chairs! It's still a work in progress, but we'd love to see you.
Q: "Is it just you?"
A: No, I have some awesome people on my team that are as diverse as they are talented. The truth that I willingly admit is: I don't know everything. So I surround myself with people that know things and how to do things that I don't so we are more competent as a group. Right now, there are 6 of us full time and several part-time – but we're going to grow very quickly.
Q: "Why did you leave your previous employer?"
A: I'm guessing you all know where I came from – a very well known organization in our community that I'd rather not name. I still value and respect that organization. But the reason I left is simple: I want more. Of course, I want more for myself, but it goes deeper than that. I want more for my customers. I want more for my employees. And I want to contribute more to our community. (not more than THEM as in a competition, but rather give more than I'VE ever given).
We're open Monday – Friday 8-5. Stop by and see us. Give us a call. Shoot us an email.  We'd love to hear from you.