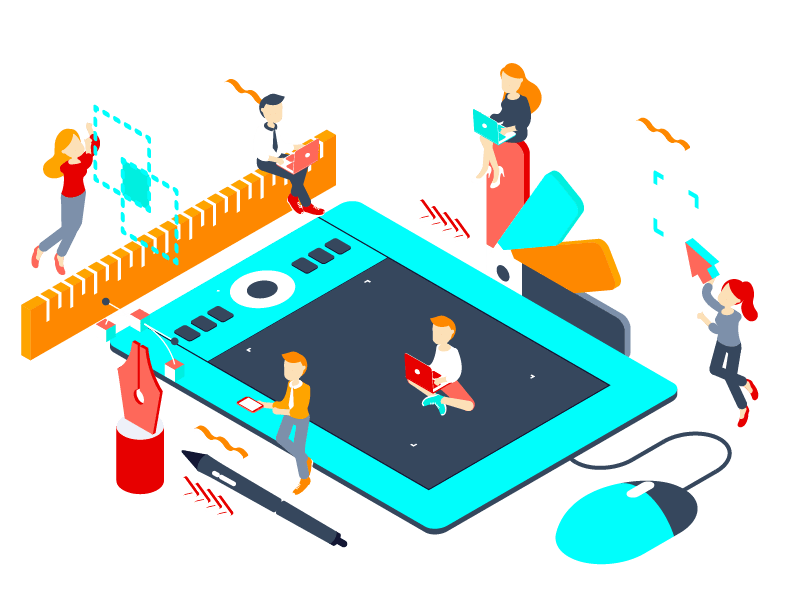 Graphic design is visual communication that is essential to businesses in today's world. It is the art of creating visuals that convey information or ideas clearly and effectively. Graphic design is vital for businesses because it can be used to build brand identity. When used correctly, graphic design can make a business stand out from the competition, communicate quickly and effectively, attract new customers, and create a unified look for all branding materials. Additionally, it can be used to create print materials for advertising and marketing, create website graphics, and efficiently organize and present large amounts of information.
Of businesses that submit to ransom demands get hit again
Of targeted cybercrimes begin with a malicious email
Of businesses and organizations were hit by ransomware in 2021
Of businesses successfully recover their data via backups
Why should you hire a marketing agency for graphic design work?
Hiring a marketing agency for graphic design work can be beneficial for several reasons. First, a marketing agency will have access to professional graphic designers with broad expertise and experience. They can access the best tools and plugins to ensure successful graphic design projects. They will also be able to provide you with a more cohesive branding strategy by connecting all design elements. Additionally, they will often be more cost-effective than sourcing designers and tools yourself. Finally, they can advise on design trends and styles, ensuring your designs remain relevant.
Why are graphic designers important to the world?
Graphic designers are responsible for enhancing how businesses and organizations present themselves. Through their creative vision and technical skills, they help shape the face of the brand and its products. They are also responsible for helping to build visual relationships with target audiences, capturing their attention, and communicating the brand's core values. From designing logos and websites to crafting engaging ad campaigns and packaging, graphic designers are essential to the business world, providing robust solutions to communication challenges and helping brands reach their goals.
How can graphic designers help your business stand out?
Graphic designers can help your business stand out against the competition by creating high-quality visuals to lift your brand above the rest. For example, a graphic designer can help you develop a unique logo or brand identity to help you stand out. Additionally, graphic designers can create visuals for marketing materials such as brochures, websites, and social media graphics that are unique to your brand. Finally, graphic designers can help you communicate your brand messaging with graphics that draw attention and evoke emotion.
How can graphic design help in promoting your business?
Graphic design can promote your business in a number of ways. It can communicate the message and values of your business, catch the attention of potential customers, reinforce your brand identity, create an inviting atmosphere, drive customer loyalty, and elevate the overall perception of your business in the minds of your customers. With the help of a professional graphic designer, you can create images, logos, and visuals that are consistent with your business's brand and represent your business in a positive light.
How does graphic design help with promotional advertising?
Graphic design helps with promotional advertising by communicating the company's message quickly, clearly, and effectively. Graphic designers can visually share a brand identity, ideas, and values in a single glance. Through carefully selected colors, shapes, and typography, they can help create a unified aesthetic identity for a brand and strengthen its presence in the market. Designers can also craft both digital and print advertisements that convey a promotional message in an optimized way. Well-executed graphic design can drive consumer engagement and conversions and increase brand loyalty and loyalty.
Who benefits from graphic design?
Graphic design benefits a wide range of people, including businesses and entrepreneurs, advertising agencies, professionals in the creative industry, and the general public. It can create visual content such as logos, advertisements, branding, product packaging, magazines, newspapers, corporate reports, websites, and more. Graphic design can help businesses attract customers and communicate critical messages creatively and memorably. It can also help individuals share their unique ideas and convey important information through visually engaging presentations.
How can graphic design help with events?
Graphic design can be a great way to help promote and market an event. Designers can create digital or print materials such as flyers, brochures, and banners to help spread information about the event and create logos, illustrations, and merchandise to increase brand recognition and generate interest from the public. Professional graphic design can also build a sense of unity and help create an overall aesthetic for the event.
How can graphic design help start-up businesses?
Graphic design can help start-up businesses develop an attractive, professional visual identity that communicates their message effectively. This can be done through logo design and branding, as well as establishing a consistent look and feel across all marketing and promotional materials, thus helping the business to stand out in a competitive market. Graphic design can also help start-up businesses to create attractive and effective websites, promotional flyers and brochures, advertisements, and other materials. This can increase the business's visibility in the market and attract potential customers.
How can graphic design help existing businesses?
Graphic design can help existing businesses in a variety of ways. It can help to quickly communicate a message to potential customers and evoke an emotional response, giving companies a powerful communication tool to promote their products or services. Graphic design can also give businesses a professional look, helping to build trust and credibility. Furthermore, it can help create unique branding and allow companies to stand out. Additionally, it can be used to create compelling visual content, making it easier to reach customers online and engage with them in meaningful ways.
How can graphic design help individuals?
Graphic design can be a powerful tool for individuals in any industry. It can help them raise brand awareness, personalize their message, communicate more effectively, and make a lasting impression on their audiences. For example, musicians can use graphics to promote music and create memorable album artwork. Politicians can use visuals to represent their ideas and campaigns. Authors can use them to highlight their book's key points while creating an eye-catching cover. Overall, graphic design is an excellent resource for individuals to communicate their message and build their brand effectively.
Why should a business hire Vitality South for graphic design projects?
Vitality South has an experienced graphic design team with an impressive portfolio of successful projects. They have various services, including website design, print design, and digital media. With a strong focus on branding, Vitality South can create an effective digital presence for any business. Their additional services, such as SEO, social media, and digital marketing, will further enhance a business's digital presence. Vitality South utilizes cutting-edge technology to ensure the highest quality, and they understand the importance of delivering projects on time and within budget.
Pillar Page, FAQs, Content Development
Benefits of a marketing agency